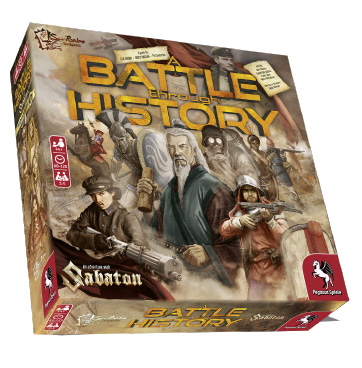 A Battle through History – an adventure with Sabaton
In A Battle through History each player dresses the part of a time-traveling storyteller (a "Sabaton"), whose journey through historical Eras enables them to relive epic battles alongside legendary troops and heroes. Players can both face "the story" (represented by cards on the main board). He challenge the other players, deploying archers, tanks, airplanes, Vikings, and any other troops that they were able to "conquer" during their travels through the Eras. Moreover, by collecting precious Relics, they can enrich their knowledge and thus gain the points needed to win the game. Whoever collects the greatest Units, Heroes, and Relics during their travels wins the game and can therefore sing of their heroic deeds!
Are you ready to be a real Sabaton? More infos about the game here!
---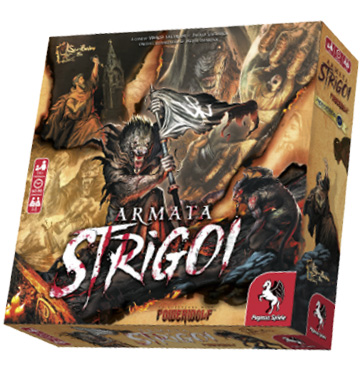 Armata Strigoi – an adventure with Powerwolf
The eternal struggle between vampires and werewolves is coming to an end. The last Vampire Master and his Apprentice, Strigoi from Wallachia, are dwelling in the ancient fortress of Tismana: a stronghold haunted by evil undead creatures. Nevertheless, the Powerwolf−sons of the Legends of the Night and the Armenia Savage Army−the defenders of the "Real Truth," prepare for a last frantic assault knowing there are no alternatives to victory! More info here!
---
SPECIAL FEATURES of the HEROES BOX
Hand-painted and ancientized wooden box (dim) 21,5×12,5×5,5 cm
Including
5 Sabaton's hand-painted figures (approx 5cmx2cm)
2 Special dice for the official Sabaton's game A Battle Through History
4 new heroes for the official Sabaton's game A Battle Through History
Only 300 available
Special rules to play with the new Cards and Dice
Note: Miniatures are not toys and are unsuitable for children under 14 years of age.
Handpainted in Italy with Games Workshop© – Citadels Colour©

---
Editor's Note
This game absolutely does not intend to incite violence, and does not support nor celebrate war, aggression, or the use of weapons in any way. Unfortunately, humanity over the centuries has always resorted to the use of weapons. And if on one hand, this has made them a terrible instrument of oppression, on the other hand they have made it possible to defend the principles of freedom, independence, and the right to exist in one's own way. During these dramatic moments, the highest price has always been paid by the defenseless and the soldiers sent to suffer unspeakable atrocities.
Even in these darkest hours, there were those who clung to their humanity and honor, distinguishing and often sacrificing themselves.
It is these whom we wish to honor with this humble game.
Within, we mention Troops, Units, individual Heroes, and events of war that did occur over the course of human history, all mixed together to create a "game of battles" through the Eras.